Sweet & Spicy Pumpkin Seed Brittle.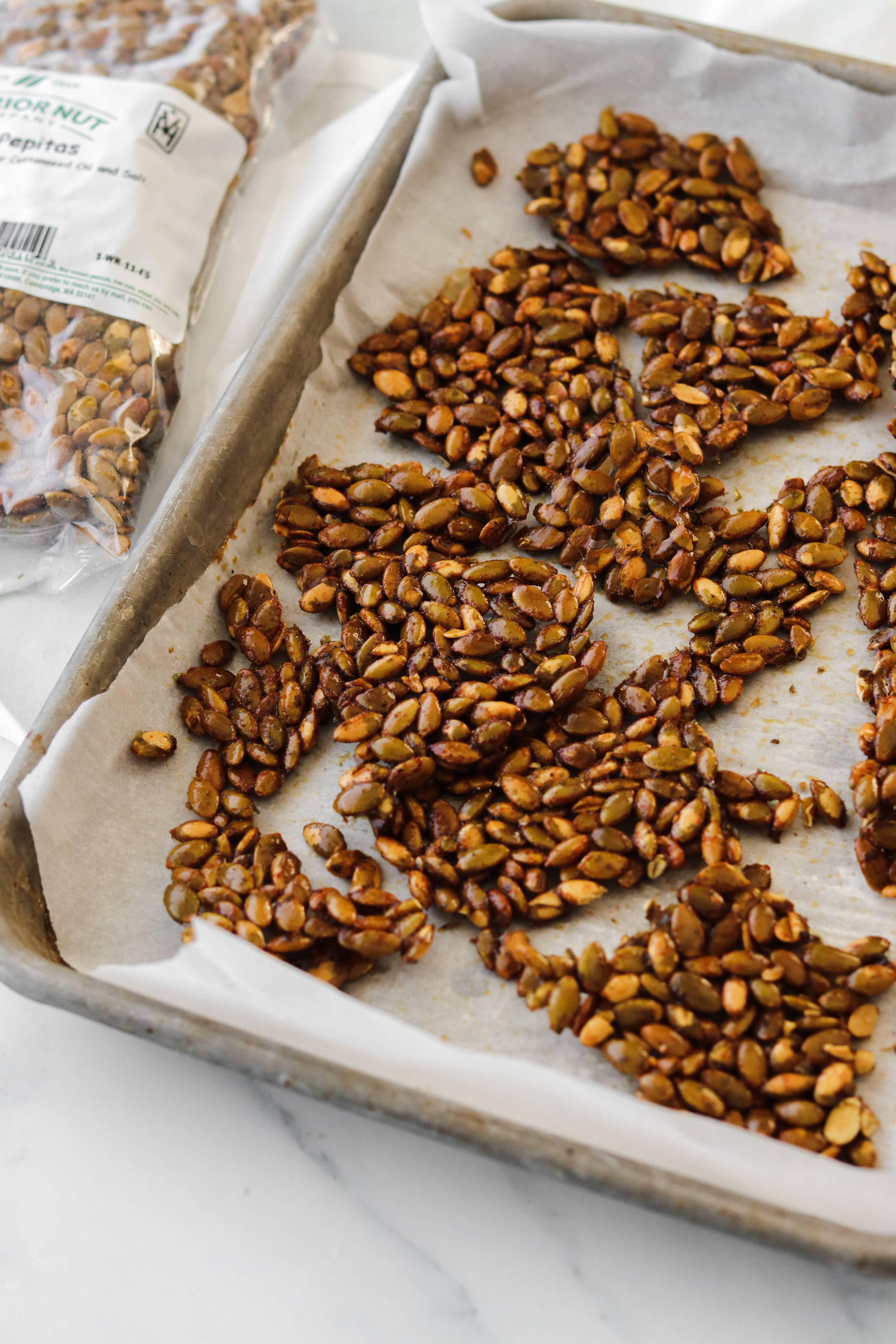 Pumpkin seed brittle is one of the tastiest ways to enjoy the crunchy seeds as a sweet treat! Also known as pepitas, pumpkin seeds are versatile and taste great whether they're salty, sweet, spicy, and more.
Pumpkin Seed Brittle
This pumpkin seed brittle recipe is incredibly easy to make, especially compared to most traditional brittle recipes. Rather than standing over a saucepan and monitoring the process of making candy, this Pumpkin Seed brittle is simply made with pure maple syrup and seasonings. All you have to do is combine the ingredients in a bowl and spread it on a lined baking sheet in the oven. The maple syrup will be bubbly and pumpkin seeds toasted shortly!
A Simply Sweet and Spicy Dessert
When considering what to make as a treat, a sweet and spicy dessert may not be the first flavor pairing to come to mind. But this pumpkin brittle, lightly spiced with cayenne pepper and sweetened with pure maple syrup, is an awesome example of how nicely sweet and spicy desserts can come together. Plus, since this brittle requires only pure maple syrup rather than granulated sugar or corn syrup, it's paleo-friendly and easier to make than a traditional candy brittle! This pumpkin seed brittle goes great as a topping to ice cream or cheesecake, or even sprinkled on yogurt.
Brittle Recipes
There are several different brittle recipes that utilize nuts and seeds and result in a crunchy candy-like brittle. Pumpkin seeds are a great option for brittle because they hold up well to many flavors and are always sure to pack a solid punch of crunch! To make more brittle recipes, try other nuts like peanuts or cashews, or seeds like sunflower seeds.
Ingredients
1 cup Roasted Salted Pepitas (pumpkin seeds)

¼ cup pure maple syrup

⅛ tsp cinnamon

¼ tsp cayenne pepper

Dash nutmeg
Directions
Preheat the oven to 350º F and line a small baking sheet with parchment paper.

In a small bowl, combine all ingredients. Transfer to a lined baking sheet and spread evenly so few seeds are overlapping.

Bake in the preheated oven for 10-15 minutes, until maple syrup is bubbly and pepitas are golden.

Allow to rest at room temperature until brittle is cool to the touch. Then, transfer the baking sheet to the refrigerator or freezer for approximately 2 hours or until the brittle is stiff and breakable.

Use your hands to break the pumpkin seed brittle into desired pieces.

Store in an airtight container in the freezer.